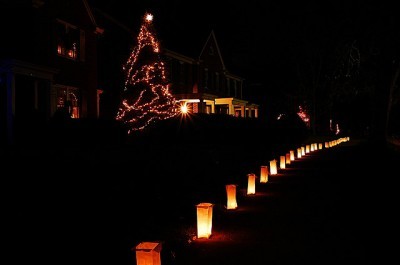 Village of Mariemont Annual Tree Lighting and Luminaria Event
Date: Saturday, December 2nd, 2022
Time: 5:30-8:30 PM
Location: Throughout Mariemont
Join your neighbors, family, and friends for a festive night as luminaries light up the Village of Mariemont! Proceeds will benefit charitable projects within the community.
Visit the Luminaria Event page on Facebook for the full schedule of events!
Luminaria Kits are sold online or via paper orders in your October Town Crier issue. You may also purchase them at the Mariemont Village Boy Scout Christmas Tree Sale – the 2023 Luminaria sale dates are Nov 24th through Nov 26th, and Dec 2nd, while supplies last.
Order your Luminaria Kits and sign up for the house decorating contest here!
FAQ:
1.  What time is the tree being lit in old town square?  The festivities will begin at 5:30pm, and the tree will be lit around 6:00pm.
2.  Where will we see Santa?  Santa will be on his sleigh and arrive at the Old Town Square at 5:30pm. He will remain at the square this year to take pictures and to meet with the kids!
3.  Can I go see multiple winter wonderlands?  Yes! The point of luminaria is for you to walk with your family throughout the village and enjoy all of the decorations throughout the village. There are numerous locations perfect for photo ops!
4.  Is the Church doing anything this year? Yes! Mariemont Community Church will have a variety show outside featuring singers and carolers as well as many beautiful decorations.
5.  Tell me about the house decorating contest! There are many homes in the village participating in the contest.  You can find out who by looking at your program or each home will have a sign identifying them as a participant on the night of. You can vote for the winner by visiting the MPPG Luminaria Page on Facebook!
6. Will there be a carriage ride this year? Yes, the carriage ride route is back at Old Town Square! You can pre-pay for a carriage ride ($4pp) with your Luminaria kit order! Alternatively, you can pay cash at the event ($5pp)!
The Annual Tree Lighting & Luminaria event is MPPG's only fundraiser. Group members volunteer to coordinate the event and raise money via sales of luminaria kits, and event sponsorship from area businesses, and donations on the day of the event.
In addition to giving back to the community, 70% of Luminaria profits are donated to a charitable cause or organization voted on by MPPG members. MPPG's 2021 Luminaria donation recipients were St. Joseph School, the Mariemont Angel Fund, and toward bathroom improvements at Dogwood Park to allow them to be open year-round. The remaining proceeds from Luminaria are used to fund projects throughout the community.
Thank you for your participation! The Mariemont Preschool Parents Group is extremely proud and honored to be a part of this wonderful village tradition and always look forward to it each holiday season.
Special thanks to our 2023 Luminaria Key Sponsors!
GOLD Sponsorship
SILVER Sponsorship
TINSEL Sponsorship
SaveSave
SaveSave