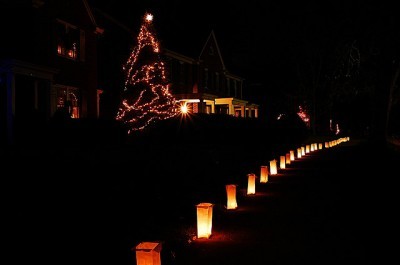 Village of Mariemont Annual Tree Lighting and Luminaria Event
Join your neighbors, family, and friends for a festive night as luminaria light up the Village of Mariemont! While the streets are aglow in candlelight, gather in the Old Town Square for the traditional lighting of the Village tree, caroling, horse-drawn carriage rides, a visit from Santa, a Bell Tower Carillon concert, and more.
This year we will feature two food trucks, SugarSnap! Truck and The Chili Hut , so save your appetite for the event.
All Luminaria proceeds support projects in the community such as park improvements, library materials for children, and charitable projects of the Mariemont City Schools. At the Mariemont Village Boy Scout Christmas Tree Sale, the Mariemont Preschool Parents group will be selling kits November 24 and 25th for 15 dollars per kit. The day of the event you and your family can purchase carriage ride tickets for $2 per rider (ages 2 and under free). Thank you for your support. 
SCHEDULE OF EVENTS
5:30 – 6:00pm Bell Tower Carillon Concert – Richard Watson
5:30 – 7:00pm Food Trucks – The Chili Hut and SugarSnap *NEW THIS YEAR!
5:30 – 8:00pm Horse-Drawn Carriage Rides & Refreshments
6:00 – 6:15pm Opening Ceremony – Old Town Center
6:15 – 6:30pm Lighting of the Tree, Arrival of Santa on the Fire Truck
6:30 – 8:00pm Visits with Santa
6:00 – 8:00pm Main Stage Entertainment:
Mariemont High School Chorus Caroling
Additional Concerts & Events:
5:45 – 8:00pm Village Church of Mariemont
3920 Oak St, Cincinnati, OH 45227
Dance Coalition (5:45pm)
Mariemont High School Strings Orchestra (6:30pm)
Mariemont Choral Music (7:00pm)
Mariemont High School Strings Orchestra (7:30pm
6:15, 7:00pm Mariemont Community Church
3908 Plainville Rd, Cincinnati, OH 45227
"Christmas at the Chapel"– A free concert featuring some
of Cincinnati's finest musicians in a blend of traditional, jazz
and contemporary music (inside the chapel)
***Find out more about 2017's Tree Lighting and Luminaria at our public Facebook Event Page.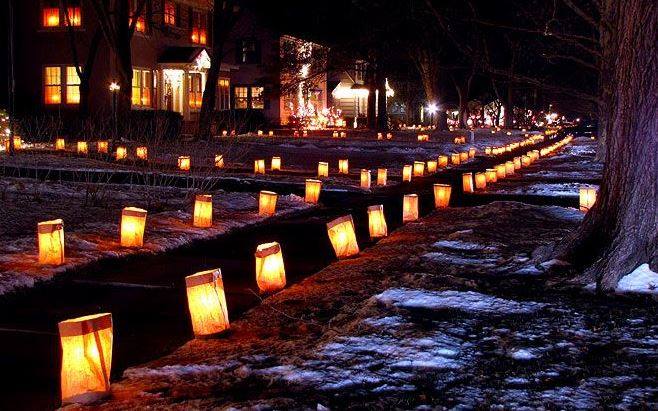 Did you know Luminaria is a Community Event and a Fundraiser? Where do the proceeds for the event and sales go? The Annual Tree Lighting & Luminaria event is MPPG's only fundraiser. Group members volunteer to coordinate the event and raise money via sales of luminaria kits, carriage rides, and event sponsorship from area businesses, and donations on the day of the event.
In addition to giving back to the community, 75% of Luminaria profits are donated to a charitable cause or organization voted on by MPPG members. MPPG's 2016 Luminaria donation recipient was the Madonna House, a not-for-profit shelter for motivated young pregnant women and single mothers with a baby to care for.
Remaining proceeds from Luminaria are used to fund projects throughout the community. Most recently, profits have funded playground equipment and fencing at Dogwood Park and playground equipment at Anne Buntin Becker Park. The Good Shepherd Catholic Montessori school also received a donation for the construction of a community-shared natural playscape at their campus in Madison Place. Donation to the Mariemont Library child learning area.
Thank you for your participation: The Mariemont Preschool Parents Group is extremely proud and honored to be a part of this wonderful village tradition and always look forward to it each holiday season!
SaveSave